Legato is the primary antagonist of the series and the fourth son of the great demon king, Kucabara's younger brother. After plotting Kucabara's banishment, he received all of Kucabara's power.
Legato

Characteristics
Full name
Legato
Japanese name
レガート
Romanization
Regāto
Species
Devil
Status
Alive
Gender
Male
Affiliations
Hell
Relatives
Mephisto (father)

Kucabara (half-brother) Bird (half-sister)

Image Gallery
At first he is seen to be a very weak child, always seen in his wheelchair and not allowed to go outside. His doctor said that he should be close to the wind, for he might get a chill. After an attempt at showing Kucabara that he can walk, he falls down face first. In a game of chess, Legato gains a checkmate over his older brother and they begin to discuss things.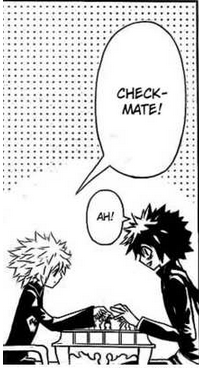 Legato begins to talk about how cruel it his for their father to lock him away for not having enough devilishness. Kucabara then states "that when I become demon king, i'll let you out straight away." Legato dismisses this and says it's ok, then proceeding to win at chess for the second time.
Legato then expresses that their isn't a type of demon that will be fair and just, being able to stand out brightly in this dark lonely place. Kucabara then states that he will be that sort of demon and says he will change everything once he is king of hell.
Legato then retorts that it isn't realistic to be thinking like that, questioning if he's ready to give up all his family members and if he has enough self-confidence to pull through and then tells Kucabara to just accept his destiny.